Avaya One-X Portal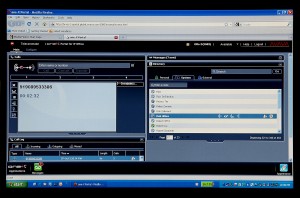 This powerful web-based tool takes care of all of your business communications needs, including phone systems, conferencing, messaging, and mobility. You won't have to worry about installing additional software on your devices with the Avaya One-X Portal. Quickly troubleshoot future problems via Avaya's online tutorials and customer support systems for a stress-free experience.
Make use of Avaya Aura Communication Manager, Avaya Meeting Exchange Enterprise, and Avaya Message Storage Server utilities all from this easy to use, all-in-one device. You can integrate your portal with Microsoft Active Directory, Novell eDirectory, IBM Domino Server, and Sun One Directory servers, as well as countless other Avaya products. The sleek web-based interface allows you to perform a multitude of tasks:
Work simultaneously with other users over any internet connection
Record and archive voice messages for future playback
Receive calls via your mobile and office phones simultaneously so you never miss a call
See your entire call history from one sleek interface
This system is ideal for your growing business, integrating effortlessly with other Avaya networking software. Improve your workflow and use that extra time to create meaningful, lasting customer relationships when you invest in the Avaya One-X Portal. Call our experts at Assist Tel-Com to set up a consultation today.